HOLISTIC WEALTH (Expanded and Updated)
By Keisha Blair
Available for purchase
Award-Winning Finalist, Best Book Awards, 2020 (Self-Help)
Award-Winning Finalist, International Book Awards, 2020 (Self-Help)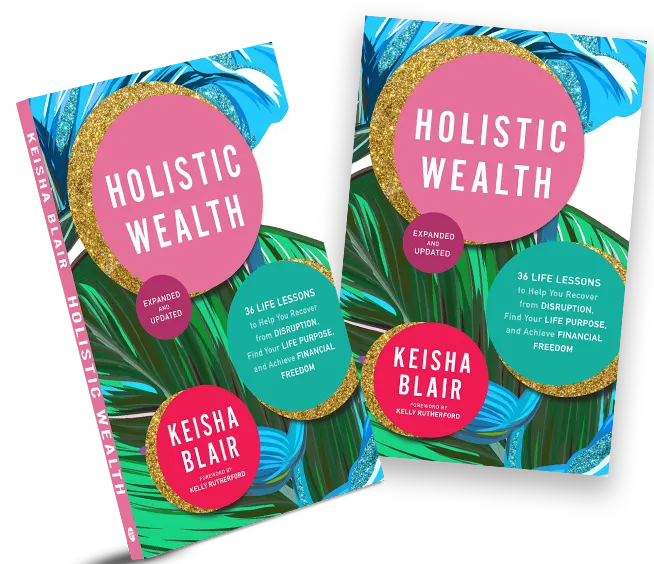 ---
Imagine a life where you are financially savvy and independent, living with purpose and generosity while inspiring others.
Imagine facing life's disruption with confidence, knowing how to regain your balance in times of uncertainty. By expanding on the teachings shared in the highly acclaimed first edition of her book and in her viral article, "My Husband Died at Age 34—Here Are 40 Life Lessons I Learned from It," viewed by more than fifty million people globally, author Keisha Blair presents even more revolutionary strategies—curated for the challenges of today's world—that will help you find balance and success.
This updated edition of the classic book is fully revised throughout and includes:
A new foreword by iconic actress and activist Kelly Rutherford, star of Gossip Girl, Melrose Place, and Dynasty
Additional chapters on pandemic-related disruptions and how to face them
More than 50 practical tips and case studies from trailblazers, luminaries, and readers (including Certified Holistic Wealth Consultants™ trained by Keisha Blair) who have increased their income, overcome disruption and setbacks, and reinvented themselves using the original book as a guide.
New interviews from the Holistic Wealth Podcast with Keisha Blair
A Holistic Wealth framework broken down into four easy parts to enable you to assess and build wealth in all areas of your life
From financial stability and physical health to your emotional and spiritual connections with others, prosperity is more than just a number—it's a way of living, and it's yours for the taking.
---
"Keisha Blair's game-changing book allows us to find the courage to overcome fear and setbacks, strengthening our connections to the world" –Actress Kelly Rutherford, star of Gossip Girl, Melrose Place and Dynasty.
---
What do people say?
Holistic Wealth by Keisha Blair is loved by influential TV audiences such as the Producers of Jada Pinkett Smith's Red Table Talk TV Show.
Red Table Talk
---
"Such a moving excerpt from Keisha Blair's book "Holistic Wealth": "Our education system teaches about linearity, not about what to do when this linear pattern breaks, not where to look for resilience, not the art of recovery from disruption"
Arianna Huffington
Founder, Huffington Post, Founder & CEO, Thrive Global, 5X International Bestselling Author
---
"I read your book (Holistic Wealth) twice and loved it both times".
Professor Ellen Langer
Distinguished Professor of Psychology at Harvard University, widely regarded as the "Mother of Mindfulness" and author of "Mindfulness."
---
"This book is a page-turner. Really inspirational"
Jen Rogers
Award-Winning Anchor, Yahoo Finance The Final Round
---
Amy Baczkowski, Emmy Award-Winning Producer and 5x Emmy Award Nominee and Producer of the Mel Robbins Show: "We loved Your Book!". The Mel Robbins Show loved the book.
The Mel Ribbons Show
---
"Financial wellness is often sought, but its tools are rarely taught! In Holistic Wealth, Keisha Blair provides interesting and important insights that can help us maximize deposits and minimize withdrawals from our holistic wealth bank accounts!"
Dr. Dinorah Nieves
PhD, a.k.a. "Dr. D," coaching consultant on the Oprah Winfrey Network's Iyanla: Fix My Life.
---
Find Purpose, Prosperity, And Happiness
Keisha Blair presents revolutionary strategies that will help you find balance and success. By following actionable, comprehensive steps from experts in a wide array of fields, this engaging book will guide you on your path to serenity. Holistic Wealth teaches you how to find prosperity in key aspects of life, from financial stability and physical health to your emotional and spiritual connections with others.